THE BIRTH OF STARS
Stars are gigantic glowing balls of gas scattered throughout space. They burn for anything from a few million to tens of billions of years. The closest star to the Earth is our sun.
* HOW ARE STARS BORN ?
Stars are born when clumps of gas in space are drawn together by their own gravity, and the middle of the clump is squeezed so hard that temperatures reach 10 million deg. C, so a nuclear fusion reaction starts. The heat makes the stars shine.
EAGLE BEBULA
Stars are being formed in the Eagle Nebula
Stretched throughout space are vast clouds of dust and gas called NEBULA. These clouds are 99% hydrogen and helium with tiny amounts of other gases and minute quantities of icy, cosmic dust. Stars are born in the biggest of these nebulae, which are called giants molecular clouds.
* HOW DOES ARE BURN STEADILY ?
In a medium-sized stars, like our Sun, the heat generated in the core pushes gas out as hard as gravity pull it in, so the stars burns steadily for billions of years.
NEW STARS ARE SEEN GLOWING AS BRIGHT SPOTS
* HOW CLOSE ARE THE STARS ?
The nearest star, apart from the Sun, is more than 40 trillion kilometer away. The stars are all so distant that we can see them only as pinpoint of light in the night sky.
NEBULAE
Nebulae occur in many different shapes.
* CAN WE SEE NEBULAE FROM EARTH ?
Some nebulae can be seen through telescopes, because they shines as they reflect starlight. Other, called dark nebulae, are seen as inky black patches. A few, called glowing nebulae, glow as the gas within them is heated by nearby stars.
* WHICH IS THE CLOSEST NEBULA TO EARTH ?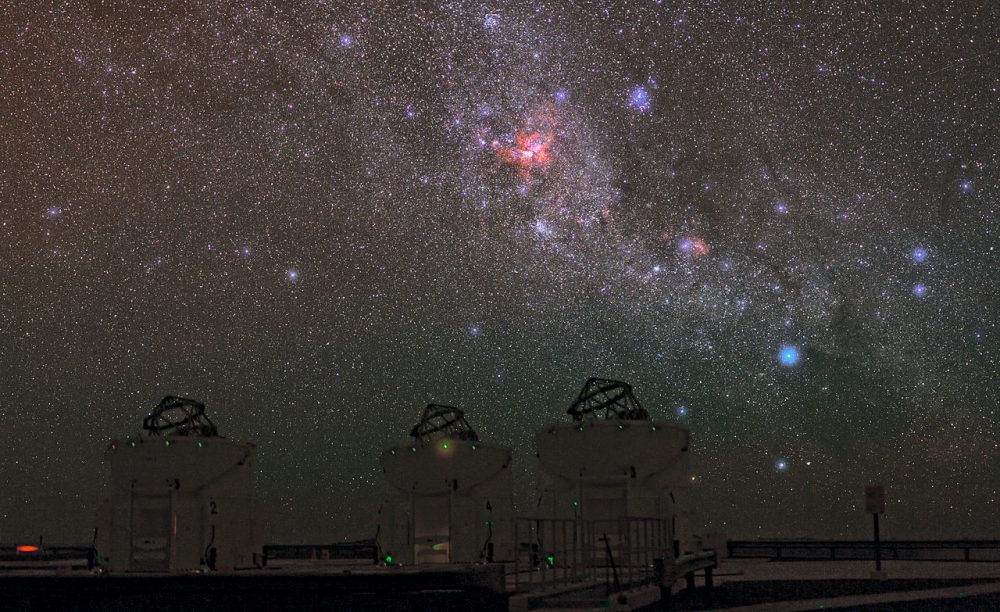 Carina Nebulae
It is the Orion Nebulae (below right), which is 1500 light years, or 14 thousand million kilometers away,